Producer of olive oils


Our olive oil comes in three selections:
Les Merveilles, Font de Leu and Sainte Modeste.
Two styles to discover…

• Fruité Vert, an oil with a fresh herbaceous taste and notes of artichoke and tomato leaves. At Calissanne we pay great to care to our oils' balance, blending varieties to obtain a Fruité Vert oil of appealing intensity but not too peppery.
The olives are picked and pressed within 24 hours to avoid any oxidation and retain their natural fruitiness.
• Olive Maturé, an oil that gives off aromas of walnuts, truffle and undergrowth. .
The crop is harvested late, and stored in a dark, airtight location for 4-5 days at 30°C. Fermentation tempers the fruit's natural pepperiness, and develops its typical notes of matured mellowness.
Calissanne's five olive groves
At the foot of the hills of Lançon-Provence, facing Estaque, our 60 hectares of AOC Aix-en-Provence olive trees look towards the Montagne Sainte Victoire.
The five south-facing olive groves are planted in limestone scree soils, in a warm dry terroir particularly appreciated by this tree – the very symbol of Mediterranean civilisation.
Our olive groves are traditional plantations, i.e. they are well spaced, so there is little competition between their roots, and the trees flourish.
We have 100 trees per hectare at Calissanne, compared with the French average of 350. This low density ensures high soil vitality. Also, pollination rates are excellent, helping ensure large quantites are produced.
Each plantation is a mix of Calissanne's varieties:
Aglandau, Salonenque, Pitchouline (10%), Grossanne, Calcutière.
Calissanne's five olive groves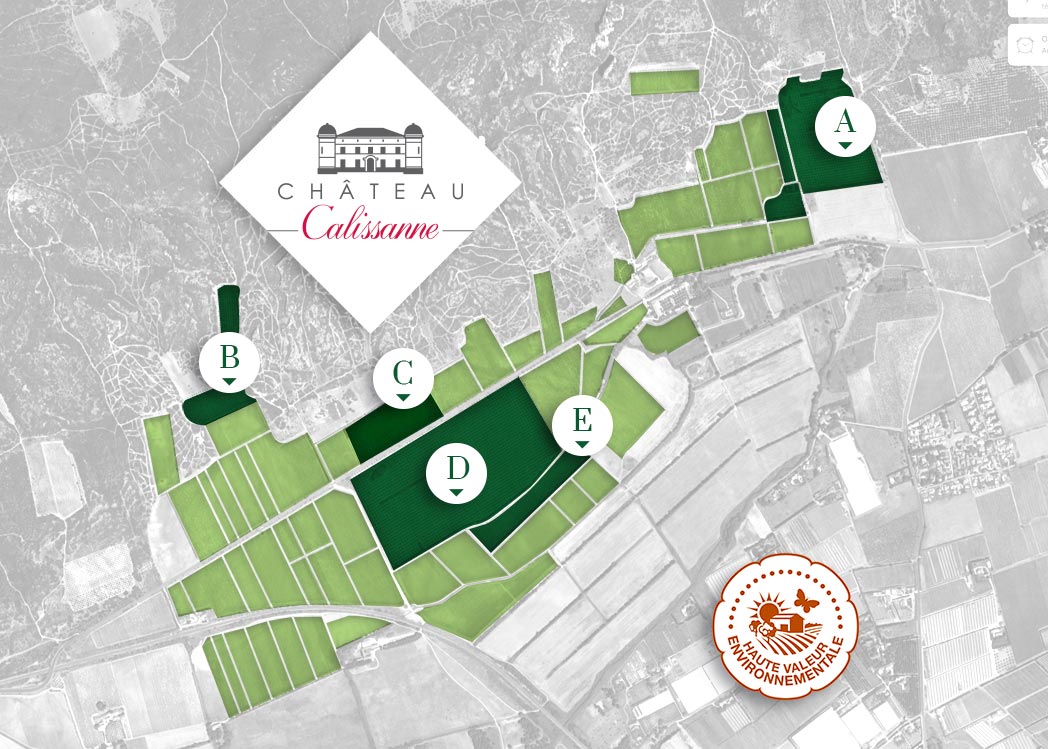 A – "les Fourches" grove
Our Les Merveilles oil
I
B – "les Chalets" grove
Our Font de Leu oil
I
C – "Ferme Neuve" grove
New plantation, Pitchouline variety

D – "la Cantine" grove
Our Sainte Modeste oil
I
E – "Chemin Blanc" grove
new plantation
There is a traditional saying that olive trees need men's care most of all:


He who tills between his trees, prays for fruit
He who manures them, asks for fruit
He who prunes them, demands fruit
Growing that respects the environment
We cultivate our olive trees using HVE, a specification based on varietal selections and growing methods that let us protect and grow our crops in ways that nutritionally enhance the olives and oils, while preserving the environment.
Fore more than five years, Calissanne has been farming its vines and olive trees to meet environmental requirements and expectations.
Compliance with this label is checked by Bureau Véritas.
Our olive varieties
The two main varieties grown at Calissanne are traditional in the Aix area: Aglandau and Salonenque.
Aglandau
A southern French olive variety thus named because it looks similar to an acorn – gland in French. Aglandau is also known as "verdale" in Carpentras, Berruguette, Blanquette or Plant d'Aix, depending on the region!
This variety accounts for about 20% of French olive-oil production, and 60% on our estate. It has ample flesh, and is a dual-purpose variety, suitable for oil and the table.
This variety is characterised by its fruitiness and rich texture.
Salonenque
The Salonenque olive originated in Salon-de-Provence. It is grown mainly in Provence, where it thrives. At Calissanne, it accounts for about 40% of production. This variety alo goes by the names of Plant de Salon, Salonen, Sauren and Varagen.
Its distinctive features? A fairly mild Fruité Vert style, with artichoke, hazelnut and green apple the dominant notes.
It is particularly suited to the production of oil and of split olives for the table.
The harvest
Picking: an important time in the groves
The olives are harvested in nets placed on the ground, between the rows of trees. The olives are combed off the trees. We harvest each variety when optimally ripe. Harvesting takes two months, from mid-October to mid-December. The olives are taken straight to the mill and crushed the same day, to extract their juice and preserve their fruitiness.
Did you know?
A picker collects 400-800 kg of olives a day (using a comb!)

It takes 5 kg of olives to make 1 litre of oil.
TASTE, SAVOUR,
be tempted…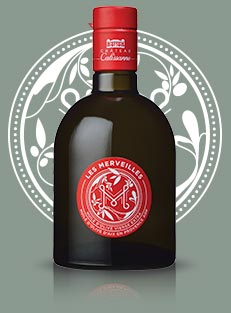 Les Merveilles
AOP Aix-en-Provence – Extra virgin
A blend of selected Aglandau (50%) and Salonenque (50%) olives grown on the estate's uplands.
This grove of old trees sustained very little damage in the big freeze of 1956. With this oil, we aim for delicacy and a balance between attractive fruity intensity and a rounded style. It will wow you with its swirl of citrus, floral and lime-blossom notes. A fresh, intense and refined oil. And wonderful on fish…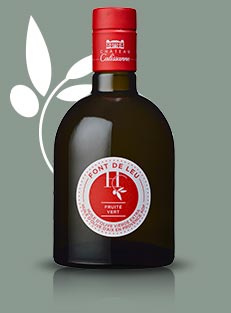 Font de Leu
AOP Aix-en-Provence – extra virgin – Fruité Vert
Made with fruit from an olive grove in the Chalet Vallon locality, with chalky soil, on the southwest-facing uplands and hillsides. A blend of two varieties of green (unripe) olives: Anglandau (40%) and Salonenque (60%). This fruity, spicy oil will add a kick to Mediterranean cuisine.
Sainte Modeste
AOC Provence – Vierge Extra – Olives maturées
Aglandau and Salonenque olives are harvested when fully ripe in the locality of La Cantine. This oil has characteristic flavours of black olive, truffle and occasionally cocoa, which combine in graceful rounded harmony.
Our oils come from AOC / AOP appellations
All of our five olive groves are in appellations:
AOP "Huile d'olive d'Aix-en-Provence" and AOC "Huile d'olive de Provence"
AOC "Huile d'olive de Provence"
Appellation d'Origine Contrôlée (AOC) status granted on 14 March 2007
EXTRACT FROM OFFICIAL JOURNAL no. 65 of 17 March 2007, page 4986, text no. 35, article 1
The only oils able to lay claim to the "Huile d'olive de Provence" Appellation d'Origine Contrôlée? followed or not by the wording "matured olives", are those that meet the conditions set out in the present decree.
The "Olive Oil of Provence" is characterised by a low-intensity nose of red berry fruits, herbaceous and raw-artichoke scents able to be associated with almond milk and cinnamon. On the palate, the oil has an intense fruitiness, characterised by herbaceous and raw-artichoke notes, perhaps supplemented by aromas of banana, hazelnut, fresh almonds and tomato leaves. There may be some pungency on the finish.
View the specification (in French):
AOP "Huile d'olive d'Aix-en-Provence »
Appellation d'Origine Contrôlée (AOC) status granted on 13 December 1999
Appellation d'Origine Protégée status granted on 10 October 2014
The olive oil of Aix-en-Provence has a nose characterised by fresh grass, raw artichoke and occasional vanilla notes. The fresh grass and/or raw artichoke are also present on the palate, sometimes supplemented by notes of walnut, fresh hazelnuts and red berry fruits. It may have a peppery edge on the finish. Before first marketing, its pungency (termed "pepperiness", within the meaning of the present specification) and bitterness vary from 1 to 5 on the organoleptic scale of the International Olive Council (COI) in the first four months after crushing, then gradually falls, rating between 1 and 3 at the end of this period.
Taken from the specification of the Appellation d'Origine Huile d'Olive d'Aix-en-Provence, certified by decree no. 2014-1145
View the specification (in French):

Voir le cahier des charges
Voir le site INAO
Olive oil: for our health and wellbeing
Made since ancient times, olive oil is an excellent way to help eat a balanced diet.
It can be enjoyed raw, to retain all of its nutritional properties, and is very good for cooking.
Together with cereals and wine, it is part of the famous "Mediterranean trilogy".
"Ah, my dear Théo, if you could see the olive trees at this time of year…
Old silver and ageing silver leaves, set against the blue. And the tilled soil tinged with orange…
There is something most intimate, and immensely old, about the murmur of an olive grove.
It is too beautiful for me to dare paint it or even to conceive of it."
Extract from a letter by Vincent van Gogh to his brother Théo, 29 April 1889, published by Editions Grasset.
The olive tree
The history of this legendary tree is intertwined with that of the Mediterranean Basin. Neolithic man was already storing olive oil in earthenware jars. The accounting "tablets" of Cretan civilisation show the extent of the oil trade: production facilities, cities' requirements, interactions with the Fertile Crescent: Syria, Palestine, Egypt…
In 15,000 BC, Crete had established the quality of a food-grade oil "which did not smell strong" and could thus be used for purposes other than lighting or bodycare, as an unguent or balm.
When they founded Marseille, the Phocaean Greeks imported to western Europe the cultivation of olive trees: soil care, harvesting and oil-extraction methods. The quantity of amphoras found by archaeologists reflects the growth in the oil trade, from which the central authority in Rome received substantial tax revenue.
Source: Une terre de conquêtes by Jacques Mazel
OLIVE OIL FOR OUR HEALTH AND WELLNESS
The health benefits of olives and their oil are of great interest, owing to research findings that demonstrate a low incidence of heart disease and certain cancers in countries with Mediterranean-type diets.
Olives, and primarily olive oil, are an integral part of this diet.
Vitamin K
Olive oil is a source of vitamin K. This is essential for making proteins that both help stimulate and inhibit blood coagulation. It also plays a role in bone formation. Besides being found in food, vitamin K is made by gut bacteria – which is why deficiency in this vitamin is rare.
Vitamin E
Olive oil is a source of vitamin E. Levels of vitamin E are typically higher in first cold pressed oils (such as Calissanne's!) than in refined oils.
A key antioxidant, vitamin E protects the membrane the surrounds the body's cells, and particularly the red blood cells and white blood cells (the latter being immune-system cells).